Click here for an online version presented as a portable document format (pdf). It will open in a separate window or tab.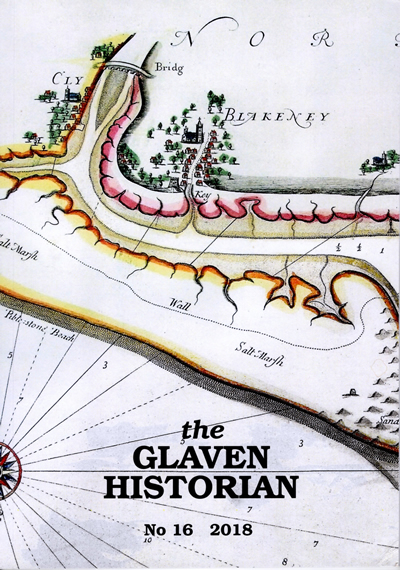 Click here to view Cover pages (they will open in a new tab or browser page).
Contents
John Darby – Land Surveyor in East Anglia in the late 16th century
Darby's Map of Blakeney Haven & Port of Cley
Diana Cooke
Synopsis: Over the past 25 years, interest in the work of John Darby has been steadily increasing with early contributions from Raymond Frostick and Jonathan Hooton. Looking to the future, there is a PhD thesis on Darby being prepared by Vivienne Aldous. Meanwhile, the following articles by Diana Cooke, Jonathan Hooton and Nichola Harrison delve a stage further into his talents. The first one looks at the context of map-making in the 16th century and the different influences on Darby in making one particular map. Two further articles explore Darby's accuracy as a Land Surveyor and discuss specific characteristics of his map-making across East Anglia.
Scale: How accurate is the map of Blakeney Haven?
Jonathan Hooton
Synopsis: This article reflects on why John Darby has attracted growing interest in recent years, and in so doing adds some further insights into his life and work.
John Darby – Further Notes and Reflections
Nichola Harrison
Synopsis: This article reflects on why John Darby has attracted growing interest in recent years, and in so doing adds some further insights into his life and work.
Seventeenth-century tokens at Cley
Adrian Marsden
Synopsis: This paper examines three tokens issued in Cley in the 1650s and 1660s: halfpennies of Richard Shawe, a chandler, farthings of John Wilch, of The George (which still exists in Cley) and a Corporation token farthing of Cley in Hoult Hundred. The author looks at what is known about the issuers and examines how widely their tokens circulated, with an appendix listing all known finds.
North Norfolk from the Sea: Marine Charts before 1700
John Wright
Synopsis: Blakeney Haven and other harbours along the north Norfolk coast have had a long history of maritime activity with merchants trading around the North Sea and the Baltic, and a fishing industry once extending to Iceland. How did sailors find their way around these waters before modern methods of navigation became available? This article describes the development of marine charts before 1700 and shows how some features of the Norfolk coastline have been portrayed on them.
William Allen, Grocer and Shipping Tycoon
Jonathan Hooton
Synopsis: William Allen was born in Weybourne in 1831 and lived in the area all his life, apart from a period at sea as a young man. In 1861 he acquired an interest in his first ship, the Parthenia, and over the next 21 years he acquired nine more ships, in whole or in part. No fewer than seven of these were lost and in 1882 he gave up ship owning and settled in Kelling as grocer, draper, postmaster and farmer, until his death in 1903.
The Billyboy Ketch Bluejacket
Serica East
Synopsis: The decline of an iconic Blakeney ship mirrors the decline of the port.
The charities of Christopher Ringer
Eric Hotblack
Synopsis: An article by Michael Medlar, about the Ringer Charities, was published in the Glaven Historian 15. These were Charities 'for the poor' established by Christopher Ringer (died 1678, Field Dalling). Eric Hotblack has responded with additional information as follows.