This 'What's New' page doesn't list all changes. Changes of a regular nature, such as updating the list of events, addition of news, newsletters or minor updates to existing content are, in general, not recorded.
25 July 2021
A letter by Nancy gull of the Corner Cafe in Cley-next-the-sea has been published including a transcription of the original letter. Click here to view the letter.
July 2021
There are now several recordings of lecture available online. Click here for the list of recordings.
20 March 2021
Memories of Mister Brett – a transcript of a 1935 interview with Howard Brett age 84 published in teh Norfolk Chronicle on 11th October 1935. Read more…
14 November 2020
Glaven Historian's Issue 7 (2004) and Issue 9 (2006) are now available online for anyone to view.
Glaven Historian's Issue 15 (2017) is now available online for current members to view.
October 2020 onwards
With lectures held over Zoom the society has made the recordings, when possible, available on the website. Click here for the list of recordings.
14 February 2020
Read the stories behind the Blakeney casualties from WW1; their lives, relatives, occupations and war service on land and sea. Read more…
13 February 2020
Information on Cooke Posts (Blakeney) added. Read more…
21 November 2019
Information on Sim Posts (Blakeney) added. Read more…
15 November 2019
A number of image galleries have been added to the relevant parts of the History Centre collection. For convenience they are also grouped together under Galleries.
By kind permission of Judy Dickenson her document ' The Trading History of Cley Next the Sea has been added to the 'Cley Next the Sea' page. A printed copy will be available for reading in the History Centre.
20 August 2019
The information on the Blakeney Regatta programmes held in the History Centre has been added to the website.
11 August 2019
The information on the Glaven Historian issues has been reorganised so that each issue is now on a separate web page.
16 May 2019
A slightly revised version of the brochure for the Blakeney Remembers exhibition held in St. Nicholas' Church, Blakeney on 10-11 November 2018. Within the brochure are listed the names of those who gave their lives in the Great War and those who came back.
Click here to view.
11 July 2018
The Blakeney School Admissions Register 1864-1912 Added. Click here to see the register.
14 May 2018
… This Website …
On 14 May 2018 the BAHS released this new website with many new and improved features. As parts of the website have been converted using OCR (Optical Character recognition) there is a possibility of errors creeping in alongside the odd typo or worse so please email the webmaster with details of any problem you encounter.
The new and improved features include:
a more responsive display according to the device it is viewed upon and its screen size
the used of a nested menu structure to make the website easier to navigate. If there is room a normal menu is displayed as shown: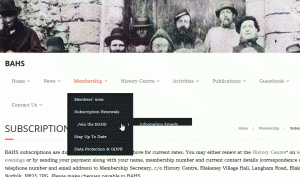 if there isn't room then the responsive menu icon (it is three lines and almost universally adopted for this purpose) appears in the upper right area:

Clicking on the menu icon (some refer to it as the hamburger icon!) will show a nested menu structure: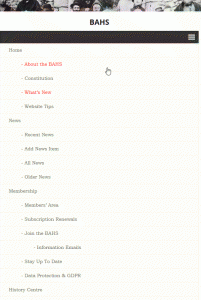 a 'News' section that allows anyone to submit an item of news. News items are moderated and will only appear in the 'News' section once they have been reviewed and approved. Similarly other users may comment on a news item and will only appear in the 'News' section once they have been reviewed and approved
a new interactive guestbook based around the use of forums. Initially the forums cover family history, house history and village (and town) history and also general history. Any user may submit an item (called a topic) in a forum. Topics  are moderated and a topic will only appear in the chosen forum once they have been reviewed and approved. Similarly other users may comment on a topic  and the comment will only appear once they have been reviewed and approved
a revised section on the History Centre with:

a significant increase in the amount of information covering what may be found the History Centre is available. This has been taken from various indexes produced over the years by History Centre Volunteers. If something is of interest a visit to the History Centre will be necessary.
the accessions list from 2003-2017 itemising items gifted, or loaned to the History Centre plus items copied (with appropriate permissions). When viewing the accessions list may be searched, reordered and manipulated to make it easy to use. However you are not changing the content or affecting what others see! Names of donors are not included in the list
The content is also presented  under different groupings such as 'Local Towns and Villages'accessions list, 'Family History', 'Local House Histories', 'Local Churches', 'Local Publications, 'BAHS Research Papers', 'Local Memories', 'Public Houses, Hotels and Businesses' and more.  Items may appear in more than one group. Some of the information is a little sketchy at this point but the page on Letheringsett under 'Local Towns and Villages' is indicative of what is possible. However it should be noted this online listing will never compete with the wealth of information and level of detail that may found in the History Centre. Below is the current example of the History Centre menu: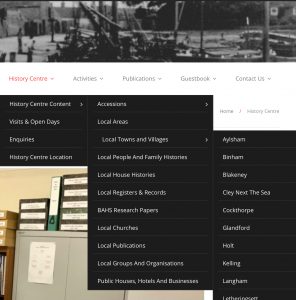 images are more prevalent and are displayed using slideshows and galleries which are responsive to the device being used
A Search option may be found at the bottom of each page. It allows searches to be made across the website including topics with forums. At present replies in the forum are not searched.